Top 10 Meme Coins by Market Cap: Did Tamadoge Make It?
Meme coins have quickly become a popular new phenomenon in the cryptocurrency market. These virtual coins are essentially cryptocurrencies that are based on popular internet memes or ideas.
Nonetheless, there are a few meme currencies that have skyrocketed in value, reaching market capitalization in the billions. This article will examine the top 10 meme coins which are top performers according to CoinMarketCap and should demand your attention.
Dogecoin
One may say that Dogecoin is the "first" meme currency. Dogecoin was first issued in 2013 and named after the Shiba Inu breed of dogs popular in Japan. The coin's creators claim they made it as a prank to poke fun at the craze surrounding cryptocurrencies at the time.
To everyone's surprise, Dogecoin eventually became one of the most widely used digital currencies. Although the token's price did not fluctuate significantly over its first few years, by the end of 2020, Dogecoin had become extremely popular thanks to the efforts of the Reddit army. Together with the rest of the cryptocurrency industry, Dogecoin's value skyrocketed in 2021 and on 8th of May, 2021, the digital token hit an all-time high of $0.73.
However, since then, Dogecoin's price has experienced unprecedented swings. However, it is still widely acknowledged that this cryptocurrency is the most well-known meme coin. The coin has also served as a model for a plethora of other meme tokens, such as the Tamadoge and the Shiba Inu. In addition, many online vendors throughout the world accept Dogecoin. Currently, one Dogecoin is worth about $0.06. The token may be acquired through major cryptocurrency exchanges and reputable internet brokers.
Buy Dogecoin
Your capital is at risk
Shiba Inu
Many other meme currencies have followed Dogecoin's lead and done well on the cryptocurrency market. Shiba Inu, a digital token, is at the vanguard of this movement because of its success in imitating Dogecoin's widespread use. Tokenized in the year 2020 with the Shiba Inu as its mascot, this canine from Japan is a popular hunting dog. Given that it was developed on top of the Ethereum network, the digital token may interact with smart contracts.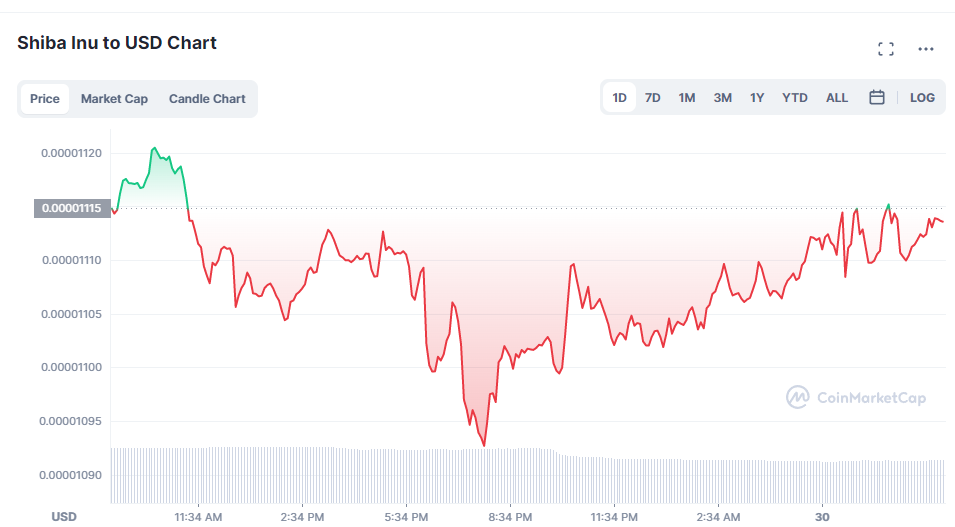 This is why many people think Shiba Inu is a better investment than Dogecoin, its main rival. In addition to being listed on multiple exchanges and social trading sites like eToro, Shiba Inu is also compatible with a big community of DeFi services.
The token's characteristics make it compatible with several existing blockchain environments. When the Shiba Inu digital token was first made available, its price was $0.00000000051. In October of 2021, the token's value skyrocketed to a record high of $0.00008, a rise of more than 15,000,000%.
But even at this increased value, Shiba Inu is still just worth pennies. As of this writing, one Shiba Inu token is worth around $0.00001108. If you use one of the top crypto trading applications, like eToro, you can buy almost 8 million Shiba Inu coins for about $100.
Buy Shiba Inu
Your capital is at risk
Dogelon Mars
One more meme token with a doge motif is Dogelon Mars. The project's backers have been touting a figure called "Dogelon Mars" as the centerpiece of their interplanetary mission. In addition to the NFTs, this character also has its own series of comic books. However, in layman's terms, Elon Musk's proposal to populate Mars is seen as inspiring Dogelon Mars. The platform's native token is known as ELON.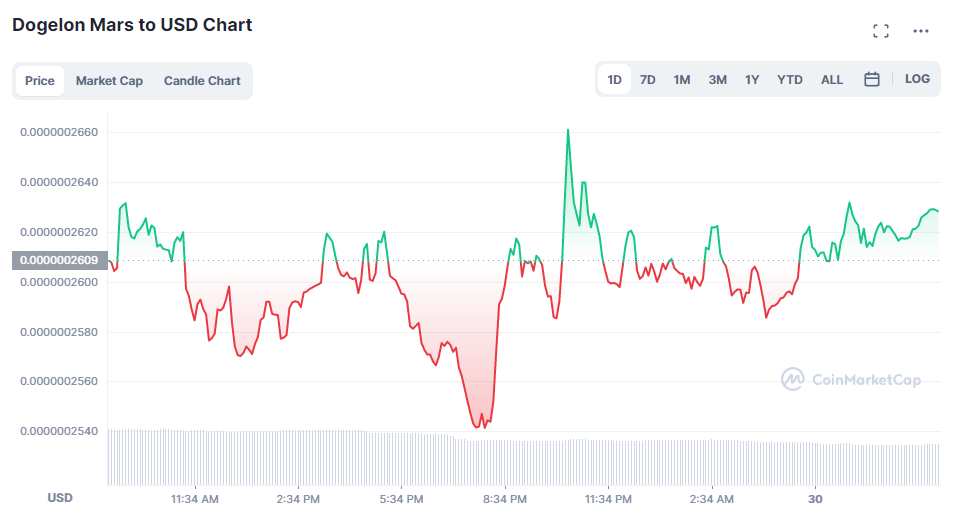 The value of a token called Dogelon Mars increased by more than 120% in the months after its initial release in early 2021. However, by June of that year, its value had dropped to below its ICO price. Dogelon Mars had its highest price ever by November 2021. Since then, the token's value has been steadily falling. Dogelon Mars' price may rise along with the rest of the cryptocurrency market if things start looking up for the industry as a whole.
Strong community backing is the project's greatest asset. However, despite its widespread acceptance, Dogelon Mars has no practical use; therefore investors should think twice before putting their money into it. At the time of writing, one Dogelon Mars coin is worth $0.0000002599.
Buy ELON
Baby Doge Coin
In 2021, various meme tokens will be released, including Baby Doge Coin. Naturally, this cryptocurrency positions itself as Dogecoin's replacement. A secondary goal of the group is to raise funds and publicity for animal organizations.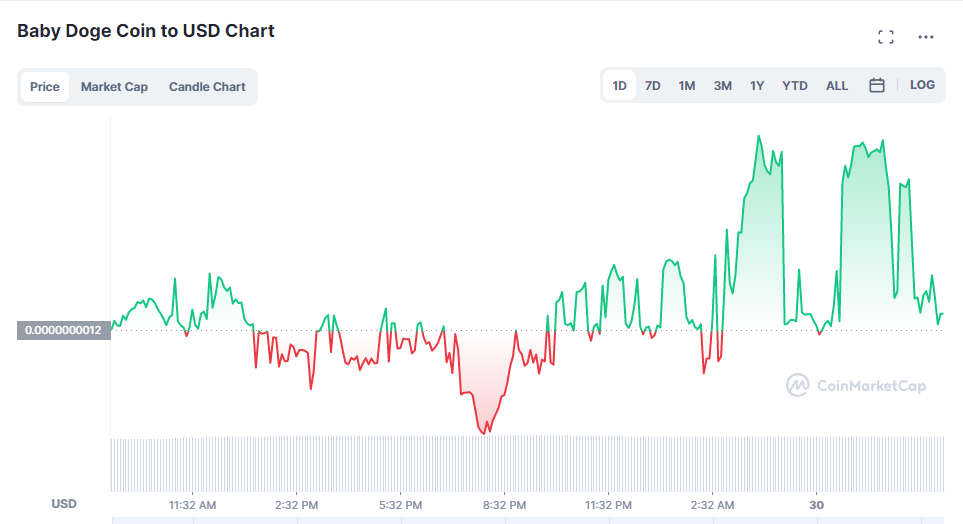 The price of this meme currency has been wildly fluctuating. Baby Doge Coin's value increased by almost 900,000% shortly after its release. Yet, in the days that followed, the cost decreased by far over 90%. In the final three months of 2021 and the first few months of 2022, Baby Doge Coin's price fluctuated widely. The most important thing to keep in mind is that Baby Doge Coin is identical to all other meme cryptos.
Instead, because of a successful social media marketing effort and the coin's ties to Dogecoin, its value increased. So, it's impossible to say which way the coin will flip in the future. . At the time of writing, one Baby Doge Coin is worth $0.000000001205.
Buy BabyDoge
MonaCoin
Launched in 2013, MonaCoin is among the longest-running meme currencies. A Japanese ASCII art figure that looks like a cat served as the inspiration for the digital token. In spite of the fact that this makes MonaCoin a meme currency, there is a unique selling point.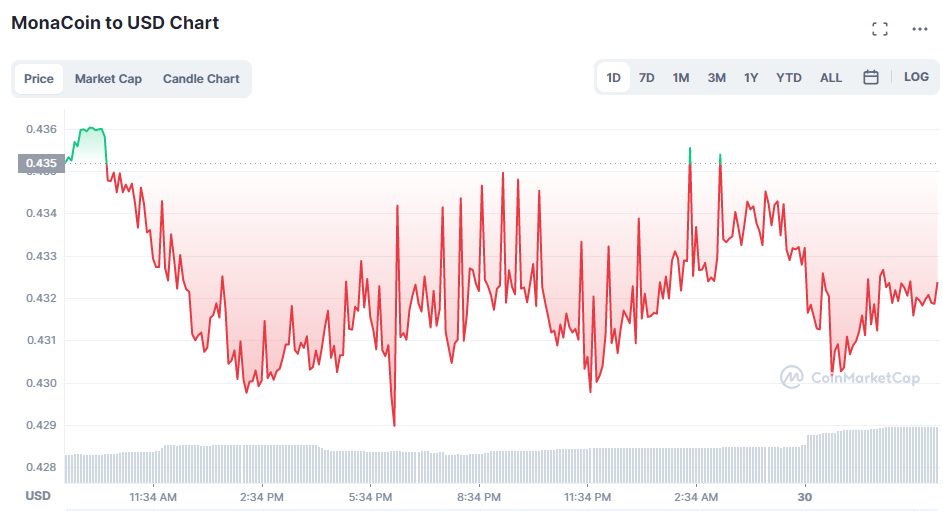 MonaCoin, unlike its competitors, was designed to function as a medium of exchange in Japan. In truth, Japanese yen may be used at smart ATMs to purchase MonaCoin. The currency is widely recognized in Japan, both in-store and online.
To further establish MonaCoin's legitimacy, the Japanese Financial Service Agency has given its stamp of approval. But much like other meme currencies, this one is quite unstable. In 2017, MonaCoin reached an all-time high value of $16.45 and since then the price has plummeted. At the time of writing, one MonaCoin is worth $0.433.
Samoyedcoin
Both Sam Bankman-Fried, a prominent cryptocurrency investor, and Anatoly Yakovenko, a co-founder of Solana, are honored by the establishment of Samoyedcoin. The Samoyedcoin project's primary objective is to hasten the widespread use of and progress made in the Solana network.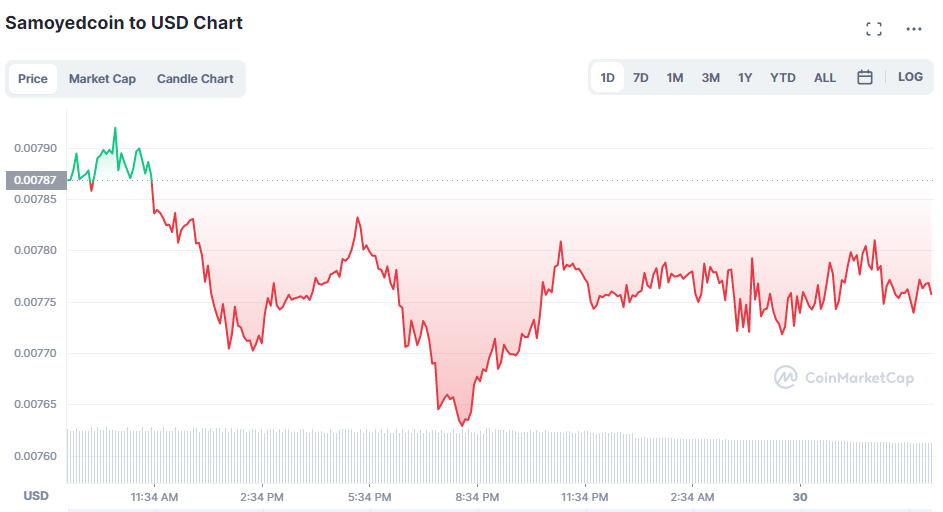 Fast and inexpensive financial dealings are two other benefits of the platform. Samoyedcoin has expanded its ecosystem to include features formerly centered on its meme coin and other Web3 technologies. As of right now, you can also shop its NFT collection over at Solanart.
Furthermore, the platform intends to expand the token and NFT's usability with the addition of new features. As of this writing, however, it is still just a meme coin that offers nothing special. However, Samoyedcoin has established a robust community, which might contribute to a future price increase. At the time of writing, one Samoyedcoin is worth $0.007725.
Buy Samoyedcoin
Floki Inu
Any time Elon Musk talks about his canine companions, someone spins it off into a cryptocurrency idea. Elon shared an adorable photo of his puppy and suggested they call it Floki. Although it is said that the initiative will empower the people by combining genuine usefulness and charity, no specifics are provided. However, being a Metaverse game, players may access FLOKI University, a crypto-learning platform, and receive prizes for doing so.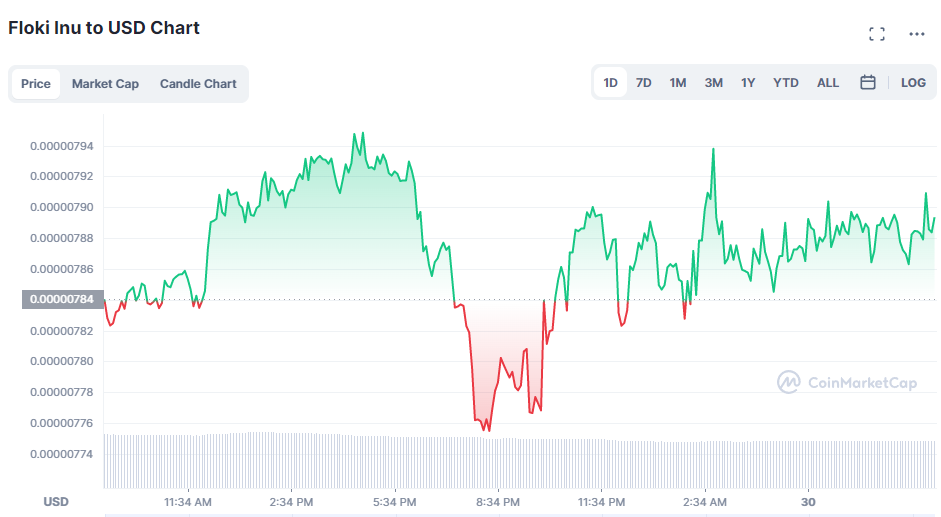 The platform also provides FLOKI DEFI, an NFT, and FLOKIPLACES, a goods shop. While Floki Inu may have its uses, it doesn't do anything to set itself out from the other hundreds of blockchain initiatives out there. At the time of writing, one Floki Inu is worth $0.000007863.
Buy Floki Inu
Hoge Finance
Hoge is a meme token created by a community-driven cryptocurrency initiative called Hoge. HOGE tokens are deflationary and come with a finite supply of one trillion. Further, the network compensates token holders by dispersing 2% of transaction revenues earned as tax.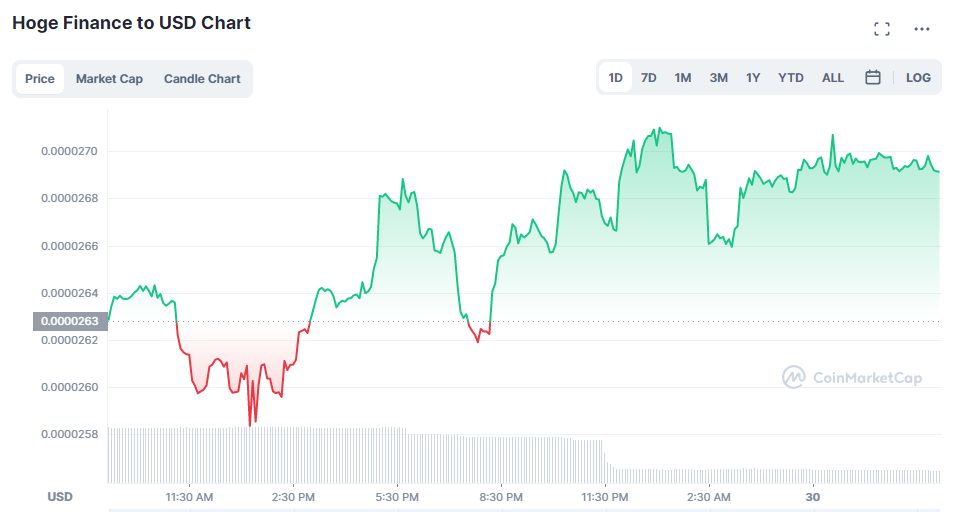 What this means for investors is that they may receive a steady stream of revenue just for keeping their HOGE tokens in their wallet. Hoge Finance is more than just a financial platform; it's an ecosystem that invites its investors to participate actively in its governance and its trajectory into the future.
Having said that, Hoge Finance has had its fair share of price volatility. Since its debut in 2021, the price of this currency has increased by a factor of several. At press time, one Hoge Finance token may be purchased for about $0.00002684.
Buy Hoge Finance
Vita Inu
The developers behind Vita Inu, like those behind Tamadoge, are concentrating on enhancing the token's practicality. According to its developers, the Vite DAG network is the first truly decentralized and free canine-centric platform. VINU's ecosystem, which was launched in 2021, features high TPS in addition to smart contract capabilities.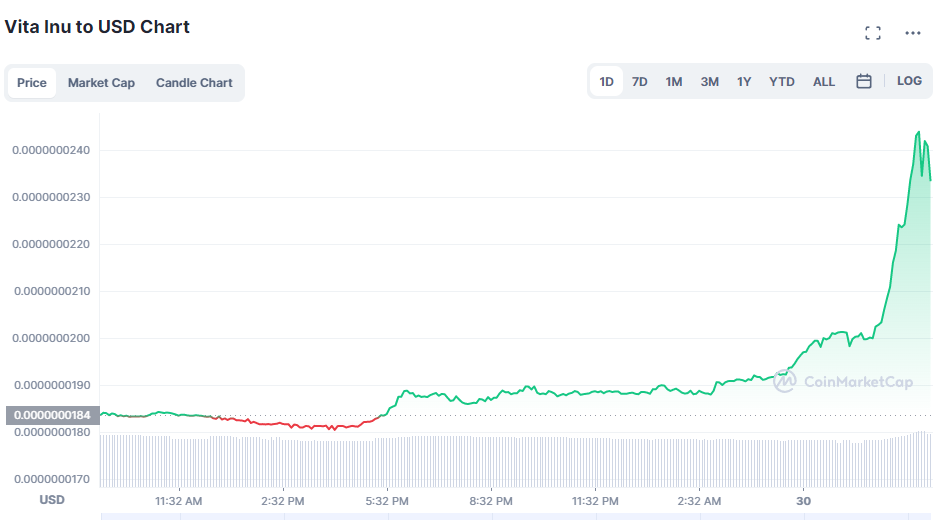 Together, they're trying to make the VINU ecosystem a home for a comprehensive crypto-based society. Among the features included are in-game microtransactions, specialized NFTs, and a gamified mini-game. That is to say, there is substantial expansion potential for VINU.
The Vita Inu Coin (VINU) serves as the ecosystem's main token of governance. One quadrillion Vita Inu tokens have been created, with 100 trillion kept aside to be burned at certain times. If investor interest in the currency increases over time, this tactic might be useful in boosting its price.
If you examine at the token's price history over the past year, though, you'll see that Vita Inu has seen significant fluctuation. At the time of writing this article, one Hoge Finance token may be purchased for about $0.00002694.
Buy Vita Inu
Tamadoge
As one of the greatest new cryptocurrencies, Tamadoge has demonstrated that it is more than simply another currency with buzz around it. The $19 million presale was completely sold out in only eight weeks, proving the fervor. In spite of the market's gloomy mood and the fact that many currencies are having trouble, investors have been flooding the Tamadoge presale, with two crypto whales dropping a combined 55.8 ETH and 40 ETH into the system in the last hours before it closed. OKX now features TAMA listings on both its centralized and decentralized exchanges.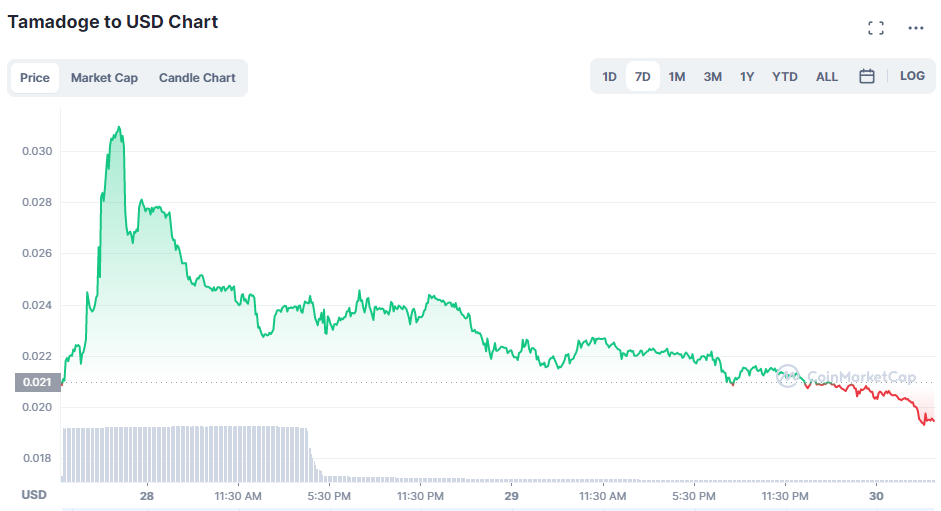 As part of the greater Tamaverse, there is a play-to-earn (P2E) game wherein users may earn points by caring for virtual pets. To go through the ranks, players must take care of virtual pets by feeding, exercising, and breeding them. As a symbol of appreciation, the platform awards users with TAMA tokens that may be converted into real money.
The fact that TAMA is a deflationary asset sets it apart from other Memecoins like Dogecoin and Shiba Inu. The creators have decided to burn 5% of all tokens bought from pet stores, limiting the total quantity to 2 billion coins. For investors, scarcity increases the value of a coin because it is now more difficult to get.
The roadmap laid forth by the developer's promises intriguing new additions that will only increase the value of Tamadoge. A P2E Arcade and an augmented reality app are two of the new additions that will improve the realism of the interactions between players and their pets.
Speculators who want to keep tabs on the latest goings-on in the game may do so by subscribing to the Tamadoge Telegram channel. Be wary of impostors; channel moderators never initiate direct messages with users. Currently, one Tamadoge is worth about $0.02053.
Register on OKX to buy Tamadoge
Read More
Tamadoge – Play to Earn Meme Coin
Earn TAMA in Battles With Doge Pets
Capped Supply of 2 Bn, Token Burn
Presale Raised $19 Million in Under Two Months
Upcoming ICO on OKX Exchange